The PJM Case (Updated November 2007)
The following is a summary of our case in PDF format:
The Fight4thePJM Update Summary as at end November 2007
The original version waswritten in late April 2006. Subsequently we made considerable progress leading to updated information and to staggering support from all parts of the globe. The updated Case is set out below.
---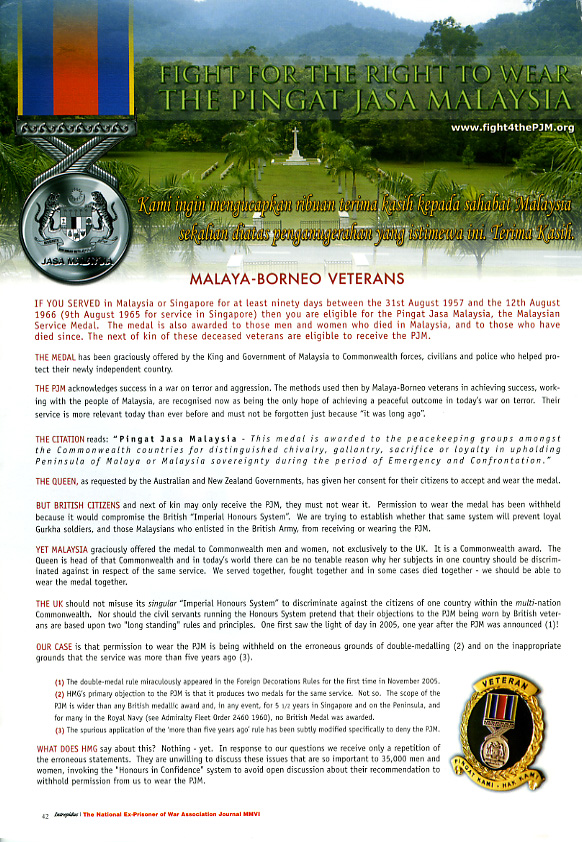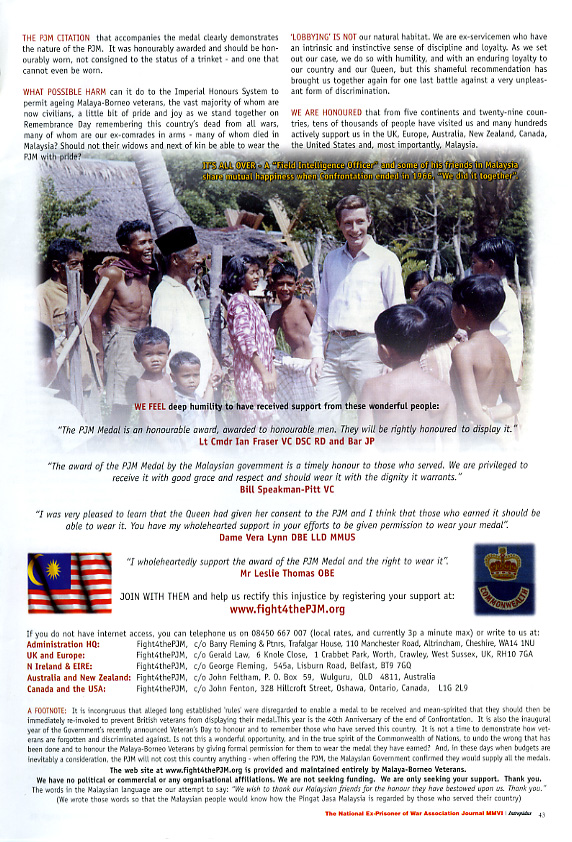 Helpful Hint: If the document is difficult to read, right click each page in turn, save it to your PC, and then open it in your image viewer. Then you can increase magnification and thus enlarge the text. If you are unsure as to which viewer you use, double click the page when it is on your PC and it will open automatically. Alternatively, open this version in Adobe Acrobat (large file).
---
Your turn now!
If you would like to comment on this page, please click here and send us your thoughts.
---
And here are some comments we've received:
Subject=The PJM

I did 2 tours of duty in Borneo and Malaya, the second one resulting in my being casavaced. I travelled back to the UK with a number of Royal Marines and Army blokes who had a range of conditions from gunshot wounds and shrapnel wounds as well as hideous jungle ulcers. (I was actually photographed by 'Honey' magazine at RAF Lynham, being unloaded in a wheelchair, for a feature article they were doing).

I feel honoured to be one of the 32,000 veterans who endured danger and hardships in that campaign and I shall wear my PJM alongside my GSM knowing it was earned and not given out because of privilege or to some chinless wonder with the right connections. Tomorrow I will get my blood pressure back in shape by attending to my herb garden in the gorgeous Queensland winter sunshine. I hope we beat the ba-----s (Ed: Ink smudged here!).

(Ivor Rich, Sunshine Coast, Queensland, Australia ex RN Malay/Borneo 63/65. Full contact details supplied)