The 50th Anniversary of Merdeka - Kuala Lumpur 2007 (Page 3)
(Please note: This page contains many images and may take time to load - but it's worth the wait!)
In August 2007 a group of British veterans returned to the country they helped to protect some forty years ago. They received a stunning welcome and it was an unforgettable trip for all concerned.
A Royal Marine was there as well. He was there in troubled times. He was in Kuching when Malaysia celebrated its 5th Anniversary of Merdeka. He returned 45 years later to join with these wonderful people to celebrate their 50th Anniversary of Independence.
---
Here are some more of his photographs - introduced by a message from Terry:
"To all .................... the ICING on a terrific visit.

What a shame no one from the MoD or the misrable lot from the HD Committee were there to see how it was done.

500 people at the Gala lunch including high ranking Malaysian government people, military personel, and 58 (including 3 ladies) very, very proud Malaya & Borneo veterans. The entertainment by the Cultural "arm" of the Malaysian Defence Force was outstanding.

The Prime Minister, for those of you who were unfortunate not to be there, told the guests of the struggles of the jungle warfare and concluded by asking us "to wear the PINGAT JASA MALAYSIA with pride" ..... the MoD should have heard our response! Along with this photo that I've sent you and the Pingat Jasa Malaysia in its magnificent presentation box ............ Meet a proud man.

Now for the down side ... the British Embassy ... what a farce. Neither The Prince Andrew nor the High Commissioner came to speak with us. I, personally, think this was a SNUB.

Your's in friendship,

Terry Warner............former Royal Marines"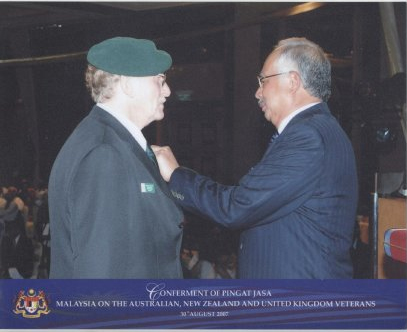 Terence Warner, Former Royal Marine, is presented with his PJM by the Malaysian Deputy Prime Minister (Official Photograph)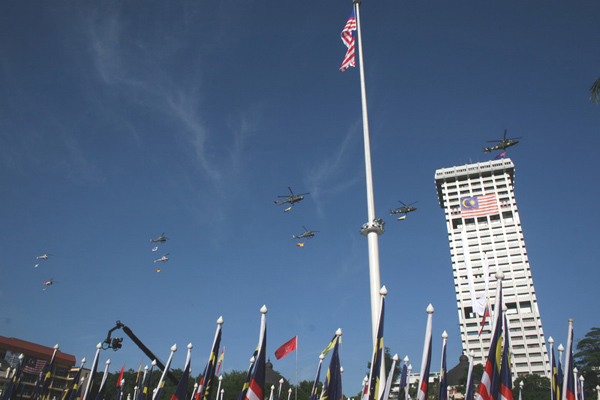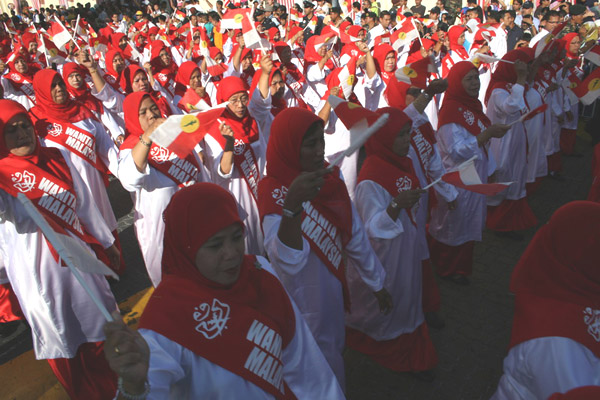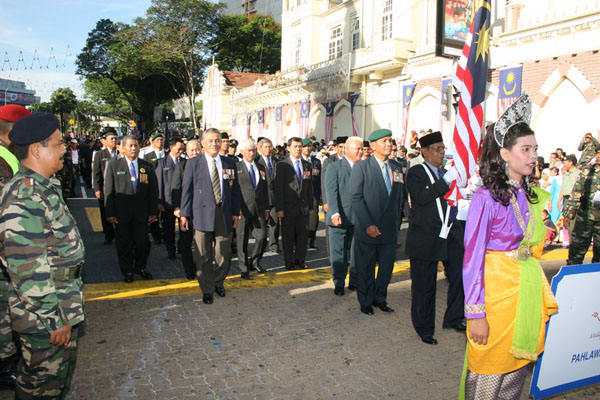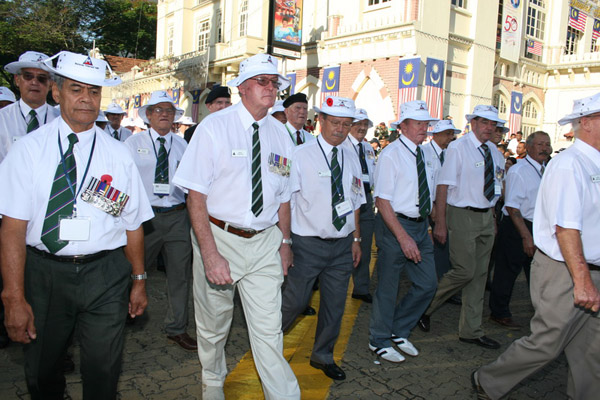 The New Zealand Contingent (with permission from The Queen to wear their PJMs)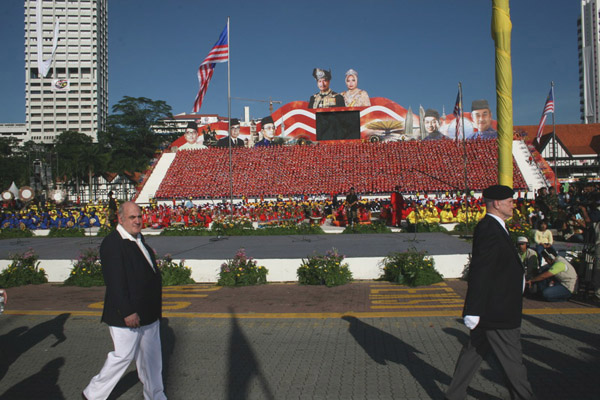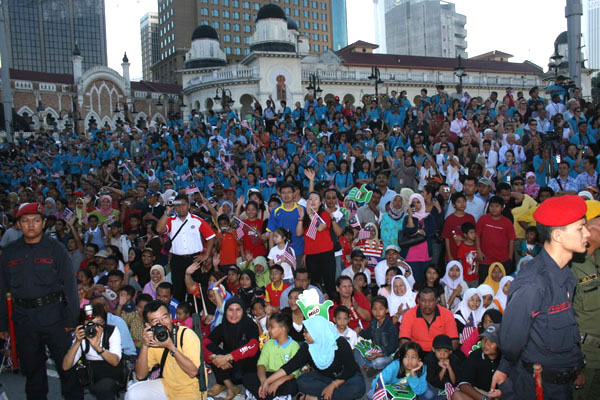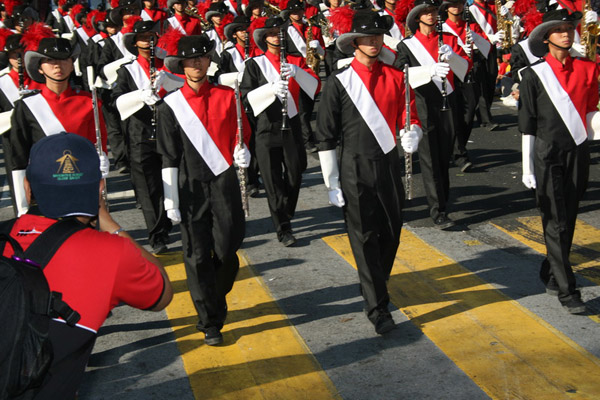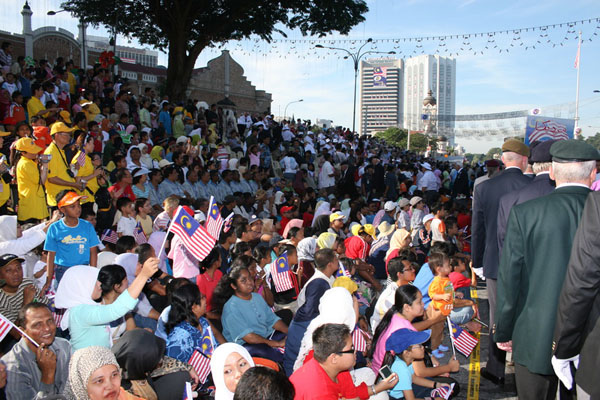 Having greeted Heads of State from South East Asia, some vets slope off for that cuppa that they were promised!
This contingent represent the Planters.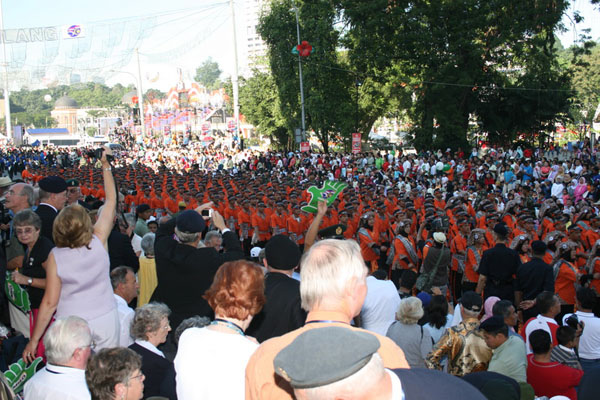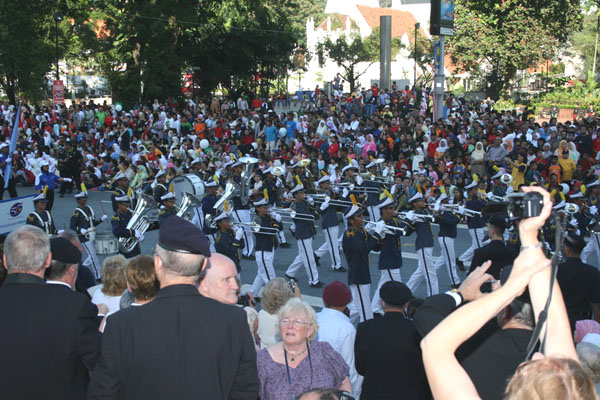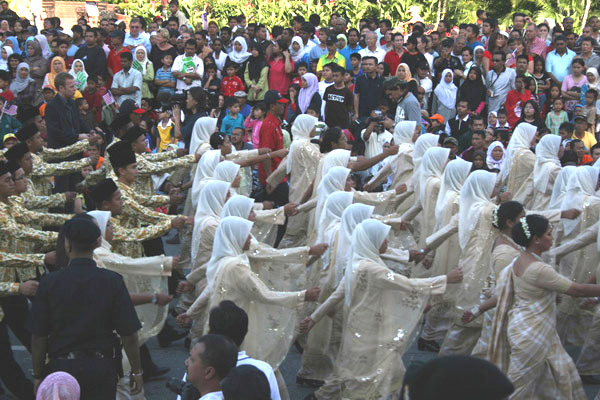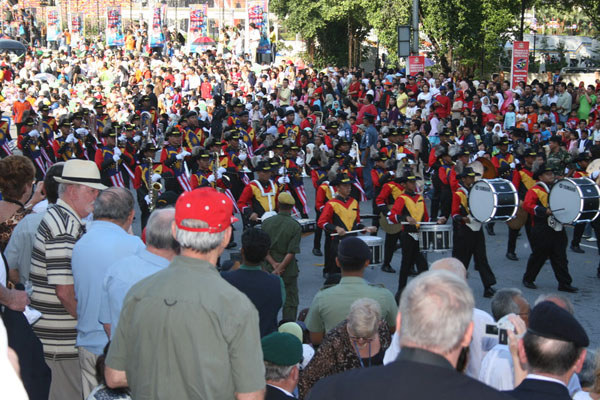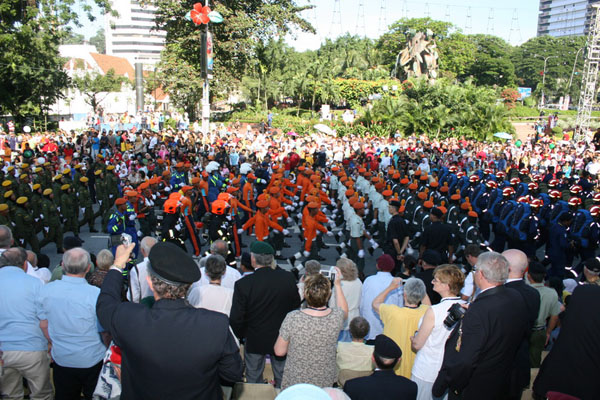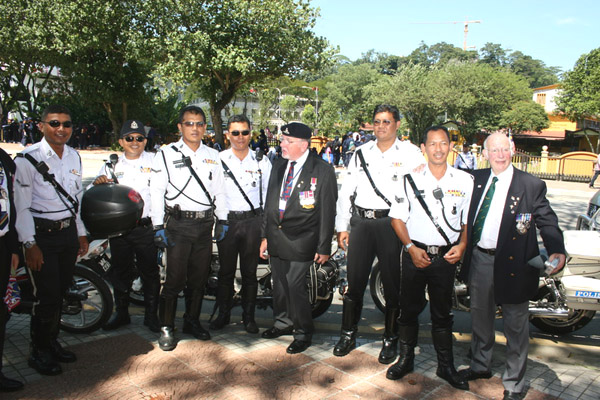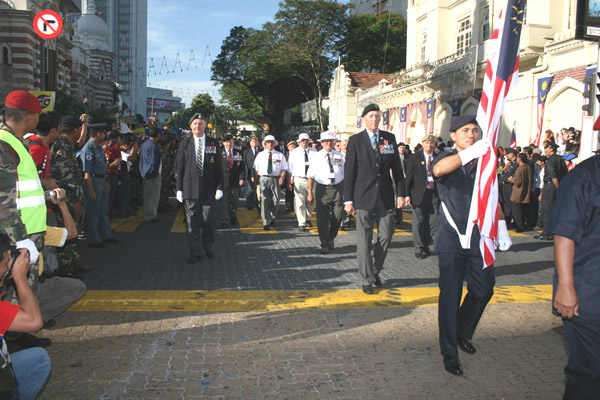 We hope you have enjoyed these images. That is it ... the report is complete. Or, as Terry would say in Wales, "Tidy".
---
A Postscript: Three images that say so much ... as does Terry's message that accompanies them.

"Little wonder Malaysia is so progressive.
All four girls thanked me for what we had done all those
painful years ago."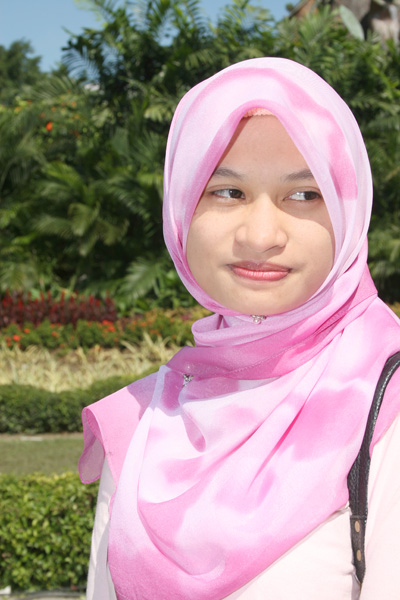 "In this world full of hatred and intolerance,
this photograph makes me so proud.

This young lady wanted to be photographed
alone with me ... her three friends stood aside."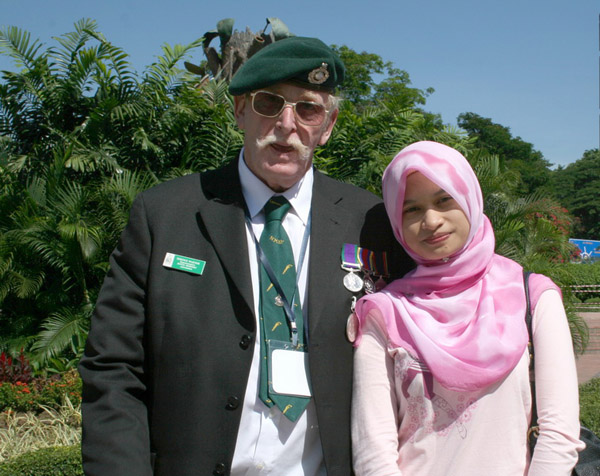 "I have called it
West meets East
Christian meets Muslim.
I don't know how old she is but her parents must have been
her age when we were there."
Terence Warner, ex-Royal Marine and Malaya-Borneo Veteran, September 2007
---
Return to 50th Merdeka KL 2007 page 1
Return to 50th Merdeka KL 2007 page 2
---
Your turn now!
If you would like to comment on this page, please click here and send us your thoughts.
---