Operations at Sea - Page III
The Navy (Australian, New Zealand and British) played a key role in the Far East and we'd like to show more images and publish more stories on this page that we have dedicated to them. Here is page 3 of our memories of Operations at Sea.
---
Ivor's Memories
We are grateful to Ivor Rich, our staunch supporter in Oz and ex-RN, for sending in the following photographs.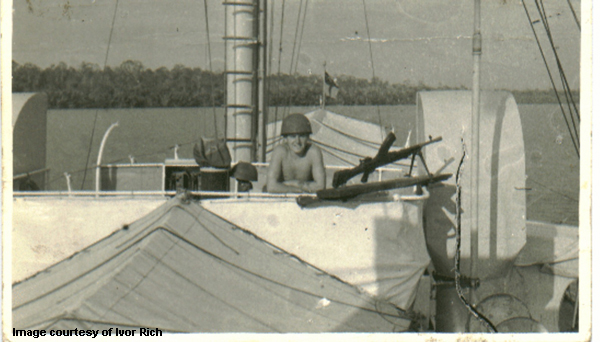 "Me as the rear bren gunner on HMS Alert somewhere near Kuching in 1963."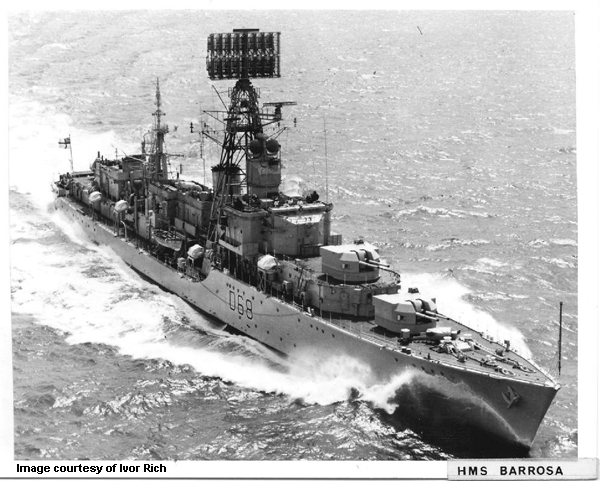 "HMS Barrosa in 1965 in which I did my second stint in the Far East. The Barrosa was fitted with very powerful radar which allowed us to slip into Indodesian waters and spy on their aircraft and ship movements. We also played a role in patrolling around the peninsula."
Ivor writes:
"In February 1963 during operations in the Alice Channel off Sabah, Able Seaman Alan Sutherland from the Barrosa was killed when boarding a suspect boat. Although it was before my time on the Barossa, it made us realise what a fragile environment we served in."
[It was a fragile environment, but Commonwealth forces eventually prevailed over those who used force and aggression to try and prevent Malaysia from being independent and from enjoying future prosperity, and that is why the Malaysian Government presented Ivor with his PJM. Australia understood that and was pleased to accept the Pingat Jasa Malaysia for wear by its eligible citizens. The UK government, led by the nose by a handful of civil servants, see it differently and view our service and the PJM as not up to a standard and are trying to prevent it being worn by UK citizens! I wonder what AB Sutherland and his family would make of that. Ed]
---
Go to: Operations at Sea Page I
Go to: Operations at Sea Page II
---
Your turn now!
If you would like to comment on this page, please click here and send us your thoughts.
---