The Blue Bonnets Last March
These words need no further comment from me. Our thanks to Keith for letting us reproduce his poem.
---
BLUE BONNETS LAST MARCH
1ST AUGUST 2006

March for the Border with beat o' the drum,
March tae the bridge that belongs Castrum toon.
All of the fine sojers frae Border Land,
Frae Kelsae an' Jethart and further aroond.
Three hundred plus years o' servin' the Crown,
Bonnie Jock sojers frae oor Border land.
History will tell of deeds and of wars,
But history will weep for Border sojers no more!
March frae the Barracks in Berwick toon fair,
Heading back tae the Border where forefathers are lain.
Don't dilly or dally on yer way hame,
Proud Scottish Soldiers, we'll remember your name
March Ettrick and Teviot, Liddesdale too,
Roxburgh, Berwickshire, Wigtownshire and more.
March into history, your Banner spread high,
Fought for our Queen, and Scotland of yore.
Let Pipers play, and drums beat your name,
The Army of Scotland will never be the same.
History should tell of foul deeds that were done,
By a Government that promised, but lied, tae their shame!
God bless all those that serve, without doubt in their mind,
The KOSB are consigned to history, and the eyes of the blind.
For only the blind can see the injustice done,
The Blue Bonnets have marched their last, with beat o' the drum
(c) Copyright Keith Cockburn, Coldstream. 2006
---
And here is Walter Stewart's photograph of the KOSBs Farewell in Edinburgh. What a sad day.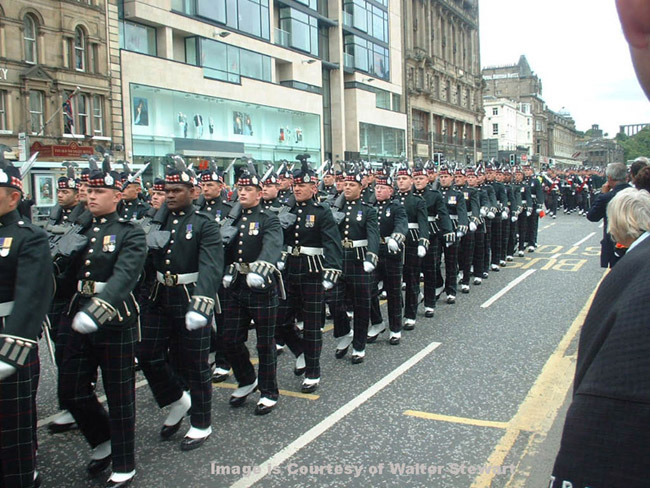 ---
Here are two more poems sent to us via the KOSB Association: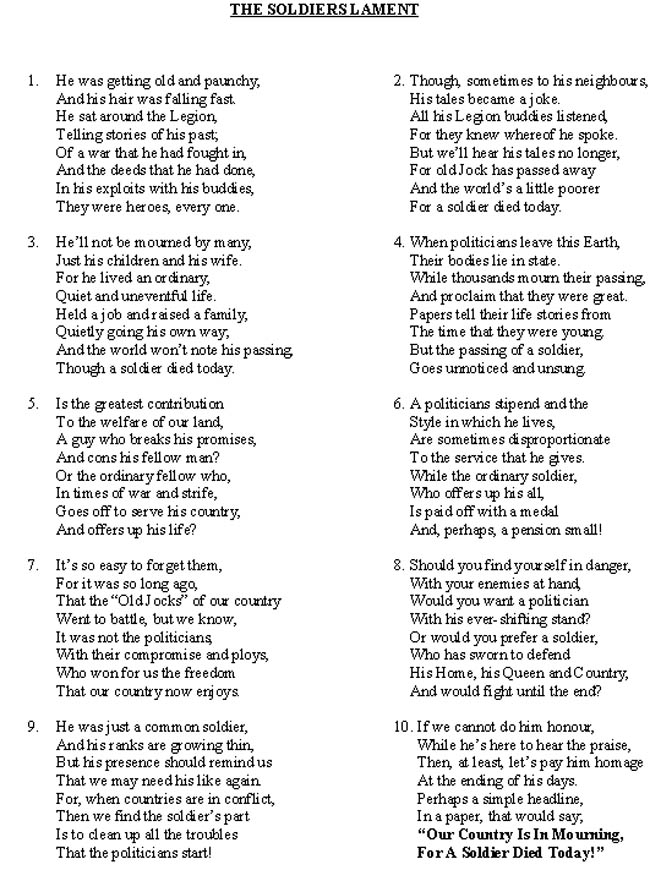 ---
REMEMBERING
Why do you still march, old man?
With medals on your chest.
Why do you still grieve, old man?
For those friends you laid to rest.
Why do your eyes gleam, old man?
When you hear those bugles blow.
Tell me why you cry, old man,
For those days, so long ago.
I'll tell you why I march, young man,
With medals on my chest.
I'll tell you why I grieve, young man,
For those I laid to rest.
Through misty fields of gossamer silk,
Come visions of distant times.
When boys of tender age,
Marched forth to distant climes.
We buried them in a blanket shroud,
Their young flesh scorched and blackened,
A communal grave, newly gouged,
In blood-stained gorse and bracken.
And you ask why I still march, young man?
I march to remind you all,
That, but for those apple-blossom youths,
You'd never have known freedom at all.
(Courtesy "Dekho!" The magazine of the Burma Star association)
---
Your turn now!
If you would like to comment on this page, please click here and send us your thoughts.
---