The Medal
"Pingat Jasa Malaysia" can be translated as "The Malaysian Service Medal". The medal was offered at the end of 2004 to the Commonwealth countries who served Malaysia - including Australia, New Zealand, Fiji, the United Kingdom and, never to be forgotten, the Gurkhas.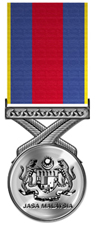 Foreign and Commonwealth medals have to be accepted by The Queen on the advice of the Government of each Commonwealth country involved where she is head of State. After a short period of consultation the Governments of Australia and New Zealand accepted the medal without restriction for their citizens. The British Government, however, announced in the House of Lords that they would refuse the Malaysian medal for British citizens on the basis that the award was contrary to British Medals Policy.
In early 2005 intensive lobbying commenced to try and reverse that decision and after a few months the Secretary of State at the Foreign and Commonwealth Office (FCO) announced that the FCO had submitted a paper to the Committee on the Grants of Honours, Decorations and Medals (known as the HD Committee which advises The Queen on these matters) asking them to review their policy in respect of foreign awards and the PJM.
After several months the HD Committee met on the 7th December 2005 to carry out the review but their recommendation was not announced until a written Ministerial Statement was made in the Commons on the 31 st January 2006 - the day after medals were presented in Australia where the medal can now be proudly worn.
The British HD Committee's recommendation, however, was that British citizens could accept the medal but they would not be allowed to wear it. This astonishing compromise means that The Queen has granted a wearable medal to her Australian and New Zealand citizens, but has refused the right to wear the PJM to her British citizens.
---
Your turn now!
If you would like to comment on this page, please click here and send us your thoughts.
Meanwhile here are some comments we've received:
Subject=The Medal

Comment=I served with xxxx Bn, Gurkha Rifles, during Confrontation and received the Borneo GSM and Malay Peninsular Medal.

1. You will recall that the Malay Peninsular Medal was awarded to servicemen in Mainland Malaysia during the latter period of Borneo Confrontation. Why does the Malay Peninsular GSM awarded in a non operational area rate higher than the PJM (albiet 'only' a Commonwealth one!) for operational service? The fact that we cannot wear the PJM might be construed as an insult to the Malaysian Government.

2. In 1992 a number of British Servicemen on loan or contract service to the Brunei Armed Forces received the Sultan of Brunei's Silver Jubilee Medal and were given the Queens 'unrestricted permission' to wear this medal. Why if this minor peacetime jubilee medal can be worn is the Government refusing to allow the same for the PJM?

(UK - Contact details supplied)

Subject=The Medal

Comment=The British armed forces are among the best in the world, and the service men and women have done this country proud throughout the last century.

To refuse to allow the PJM to be worn serves as an insult to this country, an insult to those who have fought or still fight on behalf of this country and insults the country and peoples of Malaysia.

I hope you guys win your right to wear the medal. Ultimately, I hope you wear your medal anyway, and challenge the government to do something about it...

(Gareth O'Shea - Contact details supplied)

Subject=The Medal

Comment=The people who put these laws and rules in place are the very people that award each other Knighthoods and other such honours for placing such restrictions in place. I very much doubt if any of them have ever served in the Forces of the Crown. They probably got out of National Service if they were in that age Group.

How about trying to enlist the support of the Royal Princes who may then have a more subjective and unbiased word with Her Majesty.

If I receive my PJM Medal I will wear it next to my GSM (Malaysia) and be damned if some faceless civil servant makes any comment.

(Richard Harcourt - Contact details suppliedl)

Subject=The Medal

Comment=The people who make the decisions do so with closed eyes, lack of thought or foresight. They should be proud of the achievement we made. Sadly I feel saddened and let down and I have a sour taste left in my mouth to think we have been given the greatest recognition of all - indeed the recognition of another government.

And I think it is an insult to the Malaysian Government and to those people who were there in the Malaysian conflict. And I know there were other people there but I am so proud of the achievement of the RGJ and the other people that were there it is a pity our government like, the other governments of those people that were there, cannot see the great accolade that was given to us by the Malaysian government.

It seems to me we have to fight for every inch of ground - maybe that's what made us such great soldiers.

(W Bunnell ex-Rfn RGJ - GSM and maybe, with pride, the PJM medal - Contact details suppliedl)

Subject=The Medal

Comment=The Unit I was in is no longer and I feel that it would be an honour to wear this Medal for all of the past members of my unit who are no longer with us.

My unit was 4 Royal Tank Regiment now part of 1 Royal Tank Regiment since 1993.

(DP - Name and contact details supplied)

Subject=The Medal

Comment=As a serviceman who served in the Navy during the confrontation I think that it is a disgrace that we are not allowed by the government we served to wear a medal to which we are entitled,as usual its do your duty and be forgotten about when the conflict is over,it always has been so,is it not now time for a change,after all,its not costing the government anything.


(Bernard Bevin, UK - contact details supplied)

Subject=The Medal

Comment=As a recent receipitant of the PJM [31/03/06] I wholeheartedly support your actions, not only do all Veterans deserve this recognition they are entitled to it, I say stop the nonsense, use common sense, and deliver. The typical standoff by your Government is an ignorant and ill advised action but like all Governments take no notice of rights for Veterans especially those who served in the 'forgotten War', [we won that one!] but still seem to be overlooked not "looked over".

My sympathies to all British Malayan Veterans and hope that the attitude changes for the better. All New Zealand Malayan Veterans' thoughts and best wishes go with you and trust that a positive outcome arrives immediately.


Sidney Maguire, MVA National Secretary.


(Sidney Maguire, New Zealand - contact details supplied)

Subject=The Medal

Comment=I served on HMS Barrossa 1962-1963 and was awarded the "Borneo Medal" for services in the Far East during that period. I would like to lend my support to your campaign for proper recognition to all who served in that theatre at those times.

(JEJ, UK - name and contact details supplied)

Subject=The Medal

Comment=I served in Terendak with 6Lt. Regt. RA. from January 66. My brother served with 3Cdo Bde RM in Borneo, Singapore and Malaysia. Another brother served in Borneo with 22SAS. I think it is a disgrace that the government sees fit to insult us all that 'did our bit' and the Malaysian government. Had they 'done their bit' I am sure they would feel a bit differently!

(Malcolm Brown, UK - name and contact details supplied)

Subject=The Medal

Comment=Isnt it strange that most of the people that try to stop the wearing of these Medals have probably never served in the Forces at any time.

(BV - name and contact details supplied)

Subject=The Medal

Comment=Having read all the previous comments on the non issue of this medal I find the only comment I can make is "more power to the 'Nmvba Elbow'!!"
Ex Royal Navy


(Richard Watson, UK- name and contact details supplied)

Subject=The Medal

Comment=When my medal arrives it will be mounted with the others and worn with pride. We are civvies now and no longer subject to their stupid rules. My thanks to the Malaysian Government for recognising our commitment to their freedom.

PS (20/5/2006) I have strong feelings about bureaucrats who tell you what's right and wrong, I am sure if some foreign country gave them a gong they would be only to happy to wear it, the excuse would be "We do not want to offend the giver". Well I have no intention of offending the Malaysian Government by listening to a bunch of PRILLOCKS who are telling me not to wear it, that is when and if I get it. I thank you for setting up my membership of your forum, I am pleased to be part of it . . . Good luck with the campaign,

(Eddie Smith, UK - contact details supplied)

Subject=The Medal

Comment=The ruling class never have cared much about the non ruling classes in this country. Nice gesture by the Malay government, why on earth snub them? Get a deserved award & then denied the right to wear it.

Only in this SILLY country could it happen

(John Macdonald, UK - contact details supplied)

Subject=The Medal

Message=having spent three years helping to protect Malaysia to become what it is today i think the chinless wonders in Whitehall have a bloody nerve to say we can't have this medal to wear with pride.

(MT, UK - Name and contact details supplied)

Subject=The Medal

Message=Served in Singapore and Malaya 57 to 60, and in Singapore, Eastern and Western Malaysia from 62 to 64 in the RAF. Have been a resident of Canada since 67 and am now a Canadian Citizen since 72. Am a member of the UK and Candian NMBVA and will wear my PJM with pride with my other two GSMs (one with two bars), as I am a Canadian Citizen now and view Her Majesty as Queen of Canada, so I am NOT subject to UK rules. Keep up the pressure - the pressure was there 'then' and we didnt fail the UK or The Malaysians either!

(Bill Chapman, Canada- contact details supplied)

Subject=The Medal

Message=I served in Borneo as a 2/Lt with 3rd Green Jackets, The Rifle Brigade. Before our deployment the Battalion had an intensive period at the Jungle Warfare School north of Johore Bahru.

In 2000 at the 200th anniversary of The Rifle Brigade I met up with one of my platoon corporals who, to my amazement, told me I was entitled to the bar Malay Peninsula on my GSM. As we were miles away from any possible "enemy" action this seemed a nonsense, but Spink & Co confirmed it was correct. It seems very unfair and again a total nonsense that Borneo veterans are to be denied the right to wear the PJM Medal with their GSM.

Sadly this is a typical decision from a collection of mindless civil servants who probably don't even know where Borneo is on the map.

Every British Borneo veteran should write to their MP, bring the matter to the attention of their local newspapers and those veterns who set the ball rolling are to be commended for their perspicacity.

(Simon Toynbee, UK - contact details supplied)

Subject=The Medal

Message=The two subjects I never indulged whilst serving were politics & religion. I feel so insensed by the decision of the HD committee and the discourteous remarks of senior civil servants, who have thrown a cloak of respectability over the affair and continuosly churn out spin to justify their existence.

The one important factor to us is that we need our sovereign the Queen to bestow her blessing and to recognise the sacrifice that was given for Malaya and give Her formal permission for the pjm to be worn by her British and Gurkha veterans.

Our cause is a just cause and no civil servant will take away that invincible pride that makes a British soldier. My thanks go out to all the members of the campaign group for all the effort that has been generated. We will overcome the discrimination and misinformation that has be levied on us.

(Mel Harris, UK - contact details supplied)

Subject=The Medal

Message=I found out about this medal from the international press. Contacted HM gov. to be told that the Malaya & Borneo Vets Assoc. were handling the applications. (Some Gov!!)

The M&B Vets were very good, and processed my application, or at least it was sent to the Air Ministry for verification. That is the last I have heard about it. I still don't know If/When/How, my medal will be delivered, or even who to contact to find out, but at least from your website I know I can wear it in Australia.

Incidently I found your site from a newspaper cutting sent to me from my sister in law in Malaysia. At least they care.

Keep up the good work.

(Tony Davies, Australia - contact details supplied)

Subject=The Medal

Message=I feel deeply honoured by the Malaysian government's award of the PJM.

What a terrible injustice it is to be denied the honour to wear this medal.

Don't know about you but I will be wearing mine, it will be with deep pride that at least Malaysia appreciates our efforts, unlike those old fools who only sit on their backsides in Whitehall.
BARRY.

(Barry C, UK - name and contact details supplied)

Subject=The Medal

Message=I served in 3 Cdo. Brigade and aboard HMS Bulwalk in Singapore 1960-6l, and would be honoured, should I be qualified, to wear the PJM.

I have, since serving in Singapore, visited Singapore and Malaysia, and found the country thriving a lot better than it might have done had not members of the Commonwealth Military Services taken part in the early development of these countries.

(Derek Pennington, Canada - name and contact details supplied)

Subject=The Medal

Message=I am an ex-British Royal Signals ... I left England in 1968 after serving six years in the army. I am a member of the National Malaya and Borneo Veterans Association [Australia].

I have read the problems you are having regarding the PJM. I have just filled my forms in to apply for the PJM, they in turn have gone to the British Emabassy in Canberra, then to the Malayan Embassy, then to the Malay govt in KL, and some time in the future I hope to receive my PJM.

I don't know the latest on your fight to wear the PJM but reading our latest news letter things are not too good. It disgusts me to learn of the problems with this, and that some pale faced civil servant can cause so much trouble ...{ I am being very polite here} but at 69 I find this very hard to do when I think back to those days ..God bless Mr Law ...I will wear mine with pride when I get it in the memory of all those that gave their lives for their Country... I will also purchase your Veteran badge and also wear that with pride and when I am asked what it is I will explain ... the reason for wearing it. I hope you win this battle good luck and kind regards to all Barry

(Barry H, Australia - name and contact details supplied)