The Campaign for Permission to Wear the Pingat Jasa Malaysia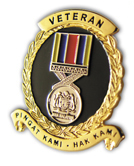 Welcome!
The Fight4thePJM website, like every good ex-serviceman or woman, has fought its last fight.
The website was last maintained in 2011 and many links no longer work, especially to photographs. But I am leaving the website up here in the ether for as long as I can as my tribute to all those who fought with me for the right to wear the PJM.
This is the last page I published - it announces the success of the campaign. That is now history and so if you just wish to navigate around the Fight4thePJM website for old times sake, start by clicking on the Home button at the top of this page.
Our Campaign Has Won Its Case!
The British Government Approves Unrestricted Wear of the PJM!
We are delighted to report that the Fight4thePJM Campaign has succeeded. Our campaign has won its case!
On the 26th October 2011 in the House of Lords, the Defence Minister stated that the HD Committee will effectively be guided to recommend to the Queen that the PJM should have Unrestricted Permission for wear on all occasions, effective from this Remembrance Day, 11th November 2011 if not earlier.
Furthermore, we have been promised that there will be a fundamental review of the HD Committee. That signals that it should never again be possible for ex-servicemen and women to be treated as shabbily as PJMers have been treated.
This is a victory for common sense, for justice, for British ex-servicemen and women who served in Malaysia, and for Malaysia.
What a wonderful, historic, day.
We are taking stock of the situation but would like to take this opportunity to thank all our thousands of supporters throughout the world.
Meanwhile a pause for thought - for all those who fought with us but are no longer with us to witness this momentous occasion, men like my friends 'Jock' Fenton and Tony Davies.
This announcement is from our Joint-Chairmen: John Feltham (Australia), Hamish Waters (Australia), Paul Alders (UK), John Cooper (UK), John Ireland (UK), Gerry Law (UK) ...
... and from me, Barry Fleming. It doesn't seem 61/2 years since I opened this website and wrote the first words which are still on our Home Page. I cannot begin to tell you the humility I feel today. Our friends in Australia need not have fought this fight, but they did. I am not going to name names for specific lobbying work, but I have to mention that the support from Oz was fundamental to our achieving this outcome. I, for one, will never forget that support, nor the support from the leaders of the UK effort who stuck it out to the end. Without their dedication this campaign would never have survived.
You can read and place comments on this news on our Forum pages.
Her Majesty The Queen Confirms Approval
3rd November 2011, 1900hrs GMT
In the last few minutes, we have heard that Her Majesty today accepted the recommendation for the Unrestricted Wear of the Pingat Jasa Malaysia.
More info will be published here soon.
It's over!
It's Official! The PJM Has Unrestricted Approval for Wear
7th November 2011
Herewith the Ministerial Statement that promulgates the amendment to the original, flawed, statement:
http://www.fight4thepjm.org/documents/Ministerial_Statement_PJM_Amended_081111.pdf
The following Press Release has just been received at Fight4thePJM:
British veterans awarded the Pingat Jasa Malaysia (PJM) medal have been given permission by Her Majesty The Queen to wear it for the first time during Remembrance events next Sunday.
The Government of Malaysia introduced the medal in 2005 and awarded it to British and Commonwealth veterans who served in the conflict in Malaya in the late 1950s and 1960s.
Approval is not normally given for foreign medals to be accepted if British recognition for a campaign has already been presented. Previously, veterans had been able to accept but not wear the medal. It has now been agreed they can both accept and wear the PJM.
This was done to recognise the generous gesture by the King and Government of Malaysia, and their wish to award the PJM in recognition of service given by many veterans in the difficult years leading up to and following Malaysian independence.
Defence Secretary Philip Hammond said:
"I am delighted that Her Majesty The Queen has given approval for veterans to formally wear the Pingat Jasa Malaysia medal in recognition of service given in the difficult years leading up to and following Malaysian independence. This timely decision is particularly welcome for veterans who will, for the first time, be able to wear this medal with pride on Remembrance Sunday."
The PJM can be worn now - holders do not have to wait for the 13th November. The first official occasion in the UK is 11/11/11.
A Message from Dame Vera Lynn
I have just received this message from Dame Vera - she has supported us throughout this tortuous battle, and has never wavered.
"It is most heart warming that the wearing of the PJM has finally been approved by HM The Queen.

I know many of our boys who served in Malaya and Borneo, and I know that they and their families are justifiably proud and grateful for this ruling.

The Fight4ThePJM Campaign members must be equally proud of this achievement. Your dedication alone has resulted in this honourable outcome.

Congratulations! I am pleased to be able to continue supporting our veterans and consider it a singular privilege to do so."
It doesn't get much better than that, does it. From the beginning, Dame Vera's support underlined that we had a just case. Her support was granted and was displayed on our front page the day our formal campaign opened. At that time she said, "I was very pleased to learn that the Queen had given her consent to the PJM and I think that those who earned it should be able to wear it. You have my wholehearted support in your efforts to be given permission to wear your medal". Thanks in great part to support such as hers, we now have exactly that. Barry
Last Posts
The Pingat Jasa Malaysia can now be worn on all occasions with HM the Queen's permission - as it was for the first time during the 2011 Remembrance Day Services and Parades. It is, therefore, with both joy and sadness that we announce that the Fight4thePJM website will soon be closing down. Joy because we've fought our fight and won - mission accomplished. Sadness because it's time to pack our kitbags - and move on from friendships newly made. But we've all been here before, packing our MFO boxes at the end of a tour of duty, leaving chums behind, moving on to the next posting wherever that may take us.
But we can also announce that we have arranged that this website will be not be stood down. It will continue to march (by the 'right', natch!) around the ethereal parade ground that is the world wide web. Fight4thePJM will be preserved (pickled?!) in time as a reminder to that group of civil servants who conjured up that first, shameful, PJM recommendation what the Military Covenant, and putting duty before self, is all about. But, above all, our time capsule will be a tribute to all those right-minded men and women around the world who supported us in our 7-year fight for a right that should never have been denied in the first place.
We thought that you might want to leave just one last message for your friends and comrades in arms. To do that, click below to go to our Forum and leave a few words for our Fight4thePJM time capsule.
If you have not already done so, you need to register to leave a message.
Pingat Kami - Hak Kami
(Having read this important notice, please click here to enter the site)